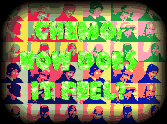 I am starting another month long blogging feature here to share and explain how chemo feels, for me at least, while I am going through it. I hope it will help others who may be going through treatments and chemo. I know everyone's experience is different. Everyone's treatment is not the same. Everyone's tolerance and ability to cope unique to themselves. What I hope this will do is hopefully take some of the mystery out of going through it, the fear and the anxiousness someone might feel when told they will receive chemo. At any rate here goes another exercise for me to write something every day, that is really what this is about, but also in doing so I will journal my experience here for others to share.
I can say for certain that God is good all the time and has been walking with me through this medical mystery that at times I still am bewildered as to the How? and Why? I am pleased to have God in my life, to trust and hold my hand when I am afraid. To carry and walk along side me when I need Him. He brings to my remembrance all His promises He has kept already and will keep in my life. None of us knows the plan, but He does so that brings an invaluable comfort level when faced with life threatening disease. I don't believe this is the end for me and that God wants to use me still for His purpose beyond even what I can see now. I trust that. I believe that with all my heart and I hope you do too. I have my good days and bad and you will hear about those. I have been journaling my walk so hopefully some of you can relate to some of the feelings if not for me for someone else you may know. And chances are with the statistics we all know someone who has been affected.
So without further delay I start this month long blog to chronicle, to enlighten, to encourage, to put into writing what some may not be able to, and to bring a hope to those who are scared. Like me.